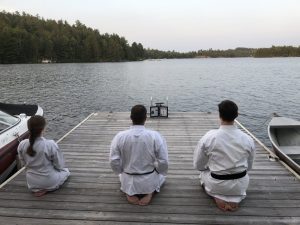 You are invited to the 2021 Charles Fink Karate Dojo Fall Retreat!
The goal of this camp is to allow us to refine our techniques in new and challenging environments. The rustic, outdoor setting aims to allow participants to escape the real world for a few days and reconnect with training and with each other. The hope is that everyone will enjoy a relaxing weekend of karate, camaraderie, and fun.
The event will take place on October 1,2,3 at the Fink Family Cottage on Boland's Lake on the north-east end of Lake Wanapitae.  The facility is about one hour from Sudbury and is easily accessible by car. While the place offers many of the comforts of home (power, clean/dry building, beds, kitchen, etc.) the point is to get away from it all and focus on training and on each other. This opportunity is open to black belts and to those who are anticipating to take a black belt exam in the following year. Here is a basic idea of what you can expect:
kata challenge
Training in the Sand Dunes (very cool)
Waterfall training (Paradise Lagoon – super nice!)
Rough/uneven terrain training (different than a conventional dojo/gym)
Full curriculum review
There will plenty of down time built in for rest, relaxation, socializing, and cottage fun (swimming, sauna, fishing, water ski/tubing, etc.). Those who know me can anticipate that there will be plenty of "value added" and special features and that it will be a really fun and memorable experience.
NO ELECTRONICS!  The cottage is an "iThing"-free zone.  Kindly check your devices at the door.  We do, however, have a signal booster in case of an emergency but expect to be incommunicado for the length of your tenure.
Friday (optional)
Saturday

8:00 – 9:00

Arrival
Coffee/Light snack

9:00

Opening Ceremonies
Sanchin
Kihon Ido

10:00 – Yakusoku Kumite
11:00 – 15 Kata
12:00 – Lunch
1:00 – 15 Kata
2:00 – Sand Dunes: Oyo Ido
3:00 – Sand Dunes: Yonhon, Nanahon, Gohon, Roppon Kumite
4:00 – 10 Kata
5:00

10 Kata
Tensho
Closing Ceremonies

6:00 – Dinner
8:00 – Social
9:00 – Camp Fire
Departure

Sunday (optional)

Morning – special training
Departure
The schedule is a general guideline and is subject to change.
If you have special dietary concerns please discuss this with Sensei.
Gi and Obi
Bathing suit & towel
Water shoes (optional)
Sunscreen
Sun hat
Refillable water bottle
Camp clothes – things you don't mind getting "camp fire smelly"
Any personal items you need for a day away

Those staying overnight are asked to remember that accommodations are shared
Be sure to pack an old gi/obi – one you can get wet and possibly muddy as well as comfortable shoes for outdoor training.
Take Hwy 17 to Kukagami Lake Road
On Kukagami Lake Road, travel 21 km until you reach a fork in the road; turn left onto Matagamasi Road
Travel 4.5 km until you reach another fork in the road; keep left onto Bushy Bay Road
Travel 5.5 km until you reach Kimberly Crt.  Turn left.
Travel about 200 m down and back up that road; turn left before you reach the big gate
You have arrived.
12 Kimberly Court on Boland's Lake – travel time is about 1 hour from Sudbury but give yourself some wiggle room.
There is no charge for the event – it is my way of saying "thank you" for supporting the Dojo.  However, donations to the Pink Belt Campaign are appreciated.  Your only responsibility is transportation (car pools can be arranged), training hard, and having fun.
Non-training members of your household are welcome to join us – please discuss this with Sensei.
Kindly register before September 24.

I look forward to training with you.