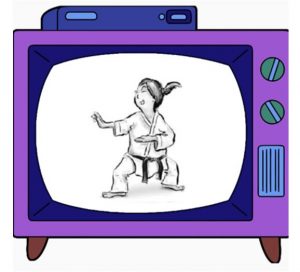 It goes without saying that The Covid-19 Pandemic has had a huge impact on Dojo operations.  One major development has been the addition of online, remote learning opportunities.  This, of course, is no substitute for in-person training but it does serve a purpose.  If you are unable or uncomfortable coming to the Dojo to train, you can join us via Zoom.
Here are a few tips and tricks to help make your Zoom experience more enjoyable:
Please log in a few minutes before class starts
Make sure your microphone is on mute and your camera is turned on
Be sure to have enough space to allow safe movement (4 square meters is plenty)
From your Laptop/Desktop

Select Standard View to see the Dojo – you can switch angles by clicking the "Swap shared screen with video" option
Select Side-by-Side Speaker view to view both Dojo angles at once
Select Side by side Gallery to see the main Dojo view and other participants

From your handheld device

A tap of the screen will allow you to swap dojo views
To see other Zoom participants swipe left/right
iSensei is a pedagogical enhancement specifically targeting 8-11 year old participants training from home over Zoom. Students from the Youth class assist by providing specific attention to those training remotely.
Remember that proper Dojo etiquette and behaviour is expected even when training remotely.  Non-training guests and spectators are asked to keep their cameras off to help minimize distractions.
The following articles might be of interest to you:
See you at class!