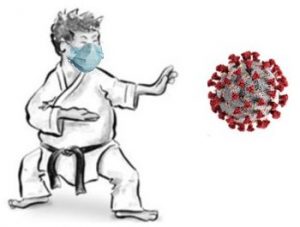 Updated September 19, 2020
The Province of Ontario has announced that we can return to in-person training as of February 16, 2021.
While we are thrilled to be back on the mats, all members of the Charles Fink Karate Dojo must work together to ensure a safe and enjoyable karate experience for all participants. To keep use all safe, do not come to training if you are experiencing symptoms of Covid-19. If you visit, follows these protocols:
Quick reference:
All participants

must complete the Daily Attestation before every class
Arrive in gi
Wear a mask at all times
Use hand sanitizer when entering and leaving the facility
Stay in your designated training area
Maintain 2m distancing
Train hard!
Exit quickly
More details and in-depth reading:
To help maximize the training space for participants, spectators are asked to join us over Zoom:
If you have any questions, concerns, or comments please contact Sensei directly.