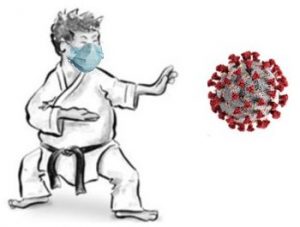 Updated September 19, 2020
The Ontario Karate Federation, the sport governing body for karate in the province, has announced that member dojos can return to in-person training as of June 16, 2020.
While we are thrilled to be back on the mats, all members of the Charles Fink Karate Dojo must work together to ensure a safe and enjoyable karate experience for all participants. To keep use all safe, do not come to training if you are experiencing symptoms of Covid-19. If you visit, follows these protocols:
Quick reference:
Arrive in gi
Wear a mask when entering and leaving the facility (masks are optional for training)
Use hand sanitizer when entering and leaving the facility
Stay in your designated training area
Maintain 2m distancing
Train hard!
Exit quickly
More details and in-depth reading:
To help maximize the training space for participants, spectators are asked to join us over Zoom:
Meeting ID: 941 5606 7411
Password: DojoParent
We also have some cool Dojo masks available for sale in the Shop.
If you have any questions, concerns, or comments please contact Sensei directly.