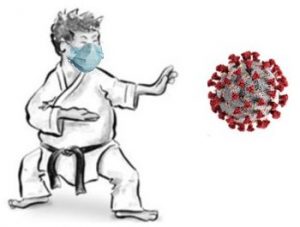 Updated November 14, 2021
The Province of Ontario has announced that we can return to in-person training as part of Phase 3 as of July 16, 2021.  Greater Sudbury Public Health has imposed the following directives effective November 10, 2021:
Therefore, as of November 10, 2021, everyone 12 and over must present written proof of double vaccination or a written exemption note from a medical doctor in order to access the Dojo. I will need to see the document either physically or electronically.
All members of the Charles Fink Karate Dojo must work together to ensure a safe and enjoyable karate experience for all participants. To keep use all safe, do not come to training if you are experiencing symptoms of COVID-19. If you visit, follows these protocols:
Quick reference:
More details and in-depth reading:
To help maximize the training space for participants, spectators are asked to join us over Zoom:
If you have any questions, concerns, or comments please contact Sensei directly.